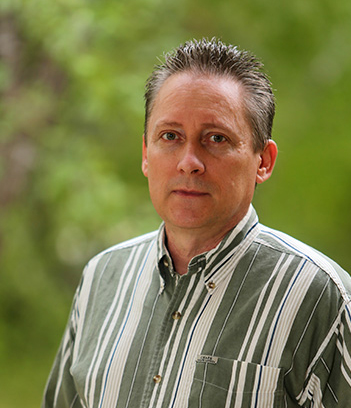 Alan M. Fedynich, Ph.D.
Research Scientist and Professor
Dr. Fedynich is from a rural community in northeast Kansas. His academic education includes a Bachelor's degree at Kansas State University, Manhattan, in Wildlife and Fisheries Biology and a Masters and Ph.D. in Wildlife Science at Texas Tech University, Lubbock. Research for his M.S. thesis focused on movements of wintering waterfowl associated with lakes considered to be hot spots for avian cholera epizootics and the Ph.D. research examined helminth community structure and pattern in mallards and emphasized concepts related to biogeographic theory of host-parasite associations.
Shortly after receiving his Master's degree and before returning for a Ph.D., he was employed as a Biological Scientist for the Florida Game and Fresh Water Fish Commission. Alan joined CKWRI as a Research Scientist in July, 1996 and became an Assistant Professor in January 2002, which includes joint appointments with the Department of Animal and Wildlife Sciences (25%) and CKWRI (75%).
He has authored and co-authored over 30 articles published in peer-reviewed international, national, and regional journals. His hobbies and recreational interests include birdwatching, fishing, snow skiing, and volleyball.
Research Interests
Host-Parasite Systems
Parasite Community Ecology 
Avian Diseases 
Toxicology and Environmental Contaminants 
Courses Taught
Rangeand Wildlife Ecology, Texas A&M University-Kingsville, Undergraduate level.
Wildlife Diseases, Texas A&M University-Kingsville, Graduate level.
Caesar Kleberg Wildlife Research Institute | Texas A&M University-Kingsville
700 University Blvd., MSC 218
Work Phone:
(361) 593-4130