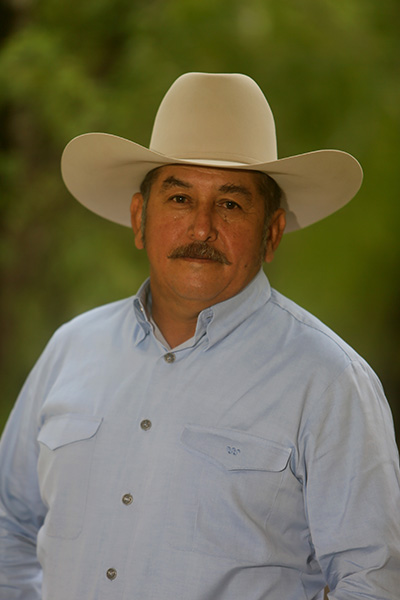 Alfonso Ortega-Santos, Ph.D.
Research Scientist & Professor
Poncho was born and raised in Gonzalez, Tamaulipas in Northern Mexico where he was in contact with ranching activities since a young age because of the family business. He graduated with a Bachelor of Science degree in Animal Science at the Universidad Autonoma de Tamaulipas in Victoria, Tamps. In Mexico, Master of Science in Animal Production at the Universidad "Antonio Narro" of Saltillo, Coah., Mexico, and a Ph.D. in Agronomy focusing grazing management at the University of Florida, in Gainesville, FL.
Poncho was Researcher and Regional Research Director of the Livestock Division, National Research Institute of Forestry, Crops and Livestock (INIFAP) in Northern Mexico from 1993 to 1997 and from 1997 to 2000 he was Researcher and National Leader of the Range and Forage Program at the same institution, which gave him the opportunity to work nationwide with a team of 110 researchers located in 82 experimental stations all over Mexico.
Poncho came to Caesar Kleberg Wildlife Research Institute as a Research Scientist in 2001. Most of his research experience has been on grazing management of range and forage plants and evaluation of native and introduced legumes. His research interests focus on rangeland ecology and management for wildlife and domestic animals.
He received the awards of The Researcher of the Year 1991 and 1992 by The Sociedad Mexicana de Manejo de Pastizales – Mexico, where currently he is a member of the Board of Directors.
Livestock Wildlife Relationships
Research Interest
Rangeland Ecology
Caesar Kleberg Wildlife Research Institute |Texas A&M University-Kingsville
700 University Blvd., MSC 218
Work Phone:
(361) 593-5001
Related Books: