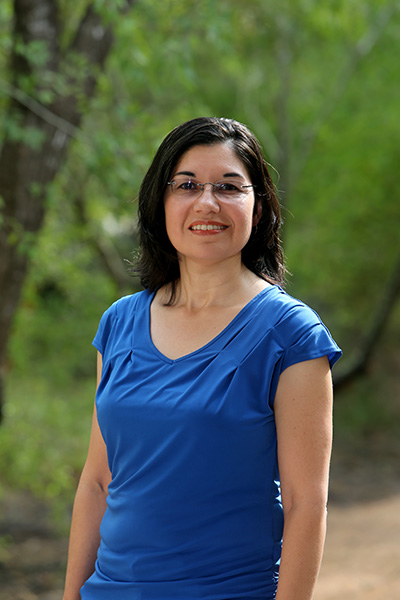 April Ann Torres Conkey, Ph.D.
Assistant Professor and Research Scientist
April Ann Torres Conkey grew up on a small family farm in Poteet, Texas and is a proud Javelina Alumni. She earned a B.Sci. degree in Biology in 1993 from Texas A&M University-Kingsville. An undergraduate research job led to an M.Sci. degree in Biology (1996) focused on the anti-hemorrhagic response of wood rats to rattlesnake venom (National Natural Toxins Research Center, TAMU-K). In 2009 she earned a Ph.D. in Wildlife & Fisheries Sciences at Texas A&M University in College Station, Texas where she evaluated freshwater wetland mitigation permitting and wetland persistence along the upper Texas coast. After graduation, she taught at Carnegie Mellon University in Qatar with research on the diet of the spiny-tailed lizard. With a wealth of teaching experience and a diverse research background, Dr. Conkey joined the faculty at TAMU-K in 2012 as an Assistant Professor of Range and Wildlife Management and Wildlife Education Specialist.
Dr. Conkey's research focuses on wildlife ecology and education and outreach. Her research experience includes rattlesnake venom resistance in wood rats, waterfowl use of rice wetlands, freshwater wetland mitigation policy and spatial analysis, and the diet of the spiny-tailed lizard in Qatar. Current research projects include behavioral ecology and reproductive physiology of the Etheopian hedgehog in Qatar and K-12 curriculum development and evaluation projects (South Texas birds and Rangelands). She incorporates service learning projects and Ecological Research as Education Network research projects (freshwater turtle populations and bird window collision studies) into her courses. 
Wildlife Education and Outreach
Research Interest
Wildlife Ecology
Wildlife Education
Outreach
Caesar Kleberg Wildlife Research Institute |Texas A&M University-Kingsville
700 University Blvd., MSC 228
Work Phone:
1 (361) 593-3715
Related Books: