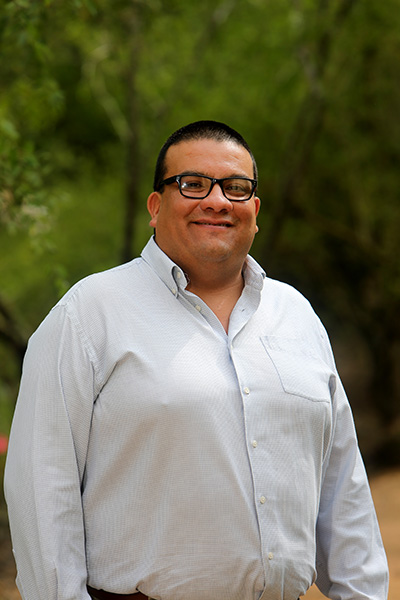 Humberto L. Perotto-Baldivieso, Ph.D.
Assistant Professor and Research Scientist

Humberto L. Perotto was born and raised in La Paz, Bolivia. He graduated with a B.Sc. in Agronomy (1995) from Universidad Mayor de San Simon in Cochabamba, Bolivia. In 1998, Humberto was awarded a Fulbright Scholarship to come to the United States and he obtained his M.Sc. in forestry (2000) and his Ph.D. in Rangeland Ecology and Management (2005) from Texas A&M University.
Humberto's interest are landscape ecology, biodiversity and bioinformatics. His research focuses on the role of spatial patterns and processes as related to ecosystem functions and ecosystem services at multiple scales and the development of data infrastructure for the distribution of spatial data in the areas of conservation and management of natural resources. Humberto's research focuses on improving the understanding of how processes (e.g. human activities, grazing behavior) interact with spatial patterns (e.g. vegetation, soils, land use) and consequently affect ecosystem function. One important area of his research is the linkage between scale, spatial structure and connectivity. This includes the development of methodologies to understand ecological connectivity and spatial and temporal dynamics of animal movement. His research included the identification of relevant scales and its influence on habitat connectivity for species with small yet widely dispersed habitats and habitat changes due to high intensity-low frequency disturbances for game species. This work has led to a strong interest in developing an integrated perspective on livestock-wildlife interactions and their surrounding landscapes.
The development, implementation and web-based distribution of spatial data infrastructure have been a significant component of his international research portfolio, particularly in developing countries. In 2004, He created theBolivian Natural Resources Digital Center and in 2013 in collaboration with the Museo de Historia Natural Noel Kempff Mercado (Santa Cruz, Bolivia), 
the Geospatial Center for Biodiversity was launched. Humberto has been part of research teams in the U.S., U.K., Bolivia and Puerto Rico with successful outcomes and contributions in the fields of rangeland ecology, wildlife ecology, livestock-wildlife interactions and their integration at different scales.
Humberto joined The Caesar Kleberg Wildlife Research Institute in June 2015, after a great international work experience in Puerto Rico (University of Puerto Rico – Rio Piedras),  United Kingdom (Cranfield University), and Bolivia (Museo de Historia Natural Noel Kempff Mercado).
Research Interest
Habitat patterns and processes
Landscape connectivity
Landscape conservation design
Landscape spatial and temporal dynamics
Scale
Courses Taught
Landscape Ecology, Texas A&M University – Kingsville, Graduate level
Landscape Ecology, Texas A&M University – Kingsville, Undergraduate level
Remote sensing for wildlife and habitat studies, Texas A&M University – Kingsville, Graduate level
Caesar Kleberg Wildlife Research Institute | Texas A&M University - Kingsville
700 University Blvd., MSC 218
Work Phone:
(361) 593-3977