Deer Research Program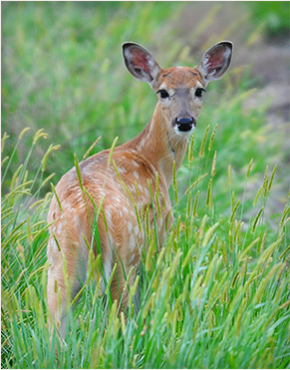 Mission
The mission of the Deer Research Program is to develop a scientific basis for the sustainable management and harvest of free-ranging white-tailed deer throughout south Texas and elsewhere.
Our Commitment
Scientists associated with the Deer Research Program are committed to conducting research relevant to free-ranging white-tailed deer in southern Texas and northern Mexico. This research seeks to increase understanding of white-tailed deer ecology and thereby increase the effectiveness of deer management. Scientists at the Institute are committed to promoting habitat management and conservation because of its importance to deer and all other wildlife. We are committed to working with landowners and deer managers in southern Texas in meeting our goals.
Featured News
A large scale research project is taking a closer look at mule deer in the Texas Panhandle. Three Texas universities have teamed up with the Parks and Wildlife Department to determine how agriculture may affect mule deer...
[more]
We are on the tail-end of summer.  The 100 degree temperatures of July and August are fading behind expectations of cooler weather and the upcoming hunting season.  Despite good fawn production in recent years, this year's...
[more]