Research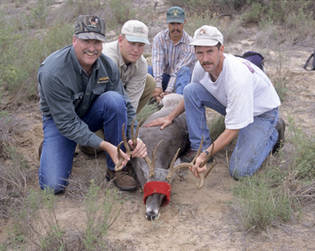 The mission of the Patton Center for Deer Research is to develop a scientific basis for the sustainable management and harvest of white-tailed deer throughout south Texas and elsewhere.
The Patton Center for Deer Research program boasts 15 graduate students; 4 doctoral candidates and 11 master's students. These students come from all over the continental United States to study various aspects of white-tailed deer.
There are 4 major long-term projects supported by the Patton Center for Deer Research. Each project encompasses several graduate student projects focused on various aspects of white-tailed deer. Additionally, the program supports individual projects.
Comanche-Faith Deer Density and Supplemental Feed Study
Because of the importance of deer density and nutrition to so many aspects of deer ecology and management, a large scale, long-term study was initiated in spring 2004 at the Comanche and Faith Ranches near Carrizo Springs. Each ranch built six, 200-acre enclosures. In the first phase of the research, low, medium, and high deer densities were paired with treatments in which supplemental feed was provided in some enclosures and not others. In 2013, the second phase of research started in which supplemental feed was provided in all enclosures and deer density and the number of feed sites varied. Extensive measurements of vegetation and characteristics of the deer population in each enclosure are providing unprecedented insight into white-tailed deer ecology.
Comanche Ranch Culling Study
A decision every deer manager must make is whether to harvest young deer with small antlers. Research with captive deer suggests heavy culling can improve antler size in subsequent generations but such a culling program greatly reduces the number of mature bucks in a population and the effects of culling in free-ranging deer populations are unknown. Deer on this project were exposed to different culling intensities for 7 years and the effects on antler size and population structure are being evaluated.
Population Characteristics of Deer in Unmanaged Populations
The East Foundation is an operating foundation in South Texas with over 215,000 acres of ranchland dedicated to promoting wildlife conservation and other public benefits of ranching and private land stewardship. Because the deer populations on these ranches are not hunted or otherwise managed, they provide a baseline from which other deer management practices can be evaluated. With this in mind, the CKWRI Deer Research program has collaborated with the East Foundation to study characteristics of the deer and deer populations on East Foundation ranches.
Antler as a Model for Human Bone Disease
This study is being conducted in collaboration with the Baylor College of Medicine. Antlers are the fastest growing mammalian tissue and are regenerated annually. Understanding the cellular processes and genetic mechanisms of antler growth could inform therapeutic strategies for human bone disease and injury. Unfortunately, the physiology of antler growth is poorly understood. This project seeks to use genetic techniques to identify genes involved in antler growth and regeneration. The knowledge gained will not only benefit human medicine but also wildlife ecology through understanding the fascinating process of how deer grow a new set of antlers annually and the factors influencing antler characteristics.