About Us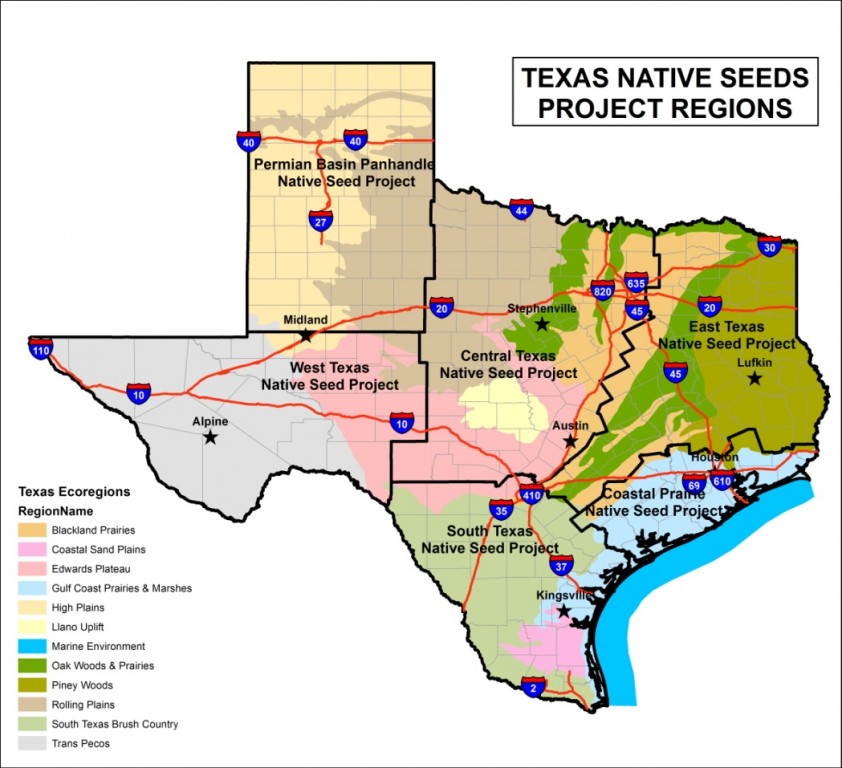 Native plant communities are being disturbed and lost at a startling rate in Texas. Exotic grasses, like KR bluestem, frequently invade and dominate disturbed areas, reduce the quality of the habitat, and subsequently spread to the surrounding landscape. As recreation and wildlife values have increased in Texas, KR bluestem and other exotics are increasingly looked on with scorn by Texas landowners. This rapid increase in land disturbance, and explosion of these exotic grasses on the landscape is extremely concerning to scientists and landowners alike. One of the best methods to minimize this occurrence is to quickly restore disturbed sites with native plants. But, the seed sources needed to do so often cannot be obtained. In fall 2010, a collaborative effort called Texas Native Seeds (TNS) began work to change that. Texas Native Seeds, organized by private landowners, the Caesar Kleberg Wildlife Research Institute (CKWRI)'s South Texas Natives Project, and the Texas Department of Transportation (TxDOT), is a collaborative effort to make native seeds available for restoration in central, west, and south Texas.
While a few native seed sources currently exist for these areas of Texas, demand for native seeds greatly exceeds commercial production. Today, just a few species are readily available for restoration projects in most areas. Current demand for native seed is influenced by the broad shift in landowner and agency goals away from seeds of exotic grasses such as buffelgrass and King Ranch bluestem for reseeding and reclamation. Today's land management goals no longer include these exotic grasses, because of their invasive tendencies, their ability to exclude other plants and limit biodiversity, and their negative impact on wildlife habitat. Today, landowners and natural resource managers desire habitats dominated by native plants that simultaneously provide for a variety of uses, from livestock production, to habitat conservation and hunting, to sustained biodiversity. Rural property values are increasingly driven by these factors. Second, Texas' native habitats are rapidly changing. Urbanization, expanding transportation corridors, wind farms and associated transmission lines, oil and gas exploration, and other forms of fragmentation and disturbance often result in invasion of exotic plants that threaten many of the native landscapes remaining in Texas. These disturbances require better restoration efforts.
The commercial availability of native seed provides an alternative to the use of exotic grass seed when prevention of erosion, revegetation, pasture improvement, or reclamation/restoration actions are needed. Without some effort to reseed native plants, undesirable plants such as exotic grasses, brush, or weeds instead colonize disturbed areas. Other negatives such as soil erosion, unnatural fire cycles, lower quality wildlife habitat, or decreased livestock forage quality may follow. Economics also dictate the need for commercially available native seeds. Conservation programs that provide financial opportunities for agricultural producers often require the use of native seeds. Marginal croplands or exotic grass pastures are less profitable to maintain and operate because of higher fuel and fertilizer costs. Reclaiming old farm fields and pastures with native plants requires effort to reseed the native vegetation, since past uses make natural re-establishment of native plants unlikely. From TxDOT's standpoint, they want to reduce the impact of highway construction on adjacent lands by conducting meaningful restoration. TxDOT benefits from this project by having better options for roadside soil stabilization-ones that also compliment wildflowers, facilitate reduced mowing and herbicide costs, and allow the department to improve biodiversity, aesthetic value, and function of the roadsides. Although Federal mandates already require the use of native seeds by TxDOT, they also require standards of vegetation cover.
Currently, sporadic availability of native seeds necessitates seed mixes containing both exotic and native plants on Texas roadsides in order to meet the vegetation cover mandates. Often, only a half-dozen or less varieties of native seeds are available for use in the quantities TxDOT needs for roadside planting projects. Through Texas Native Seeds, TxDOT hopes to be able to obtain more diverse native seed mixes that will result in greater planting success, and simultaneously meet vegetation coverage mandates. Through their support of the South Texas Natives Project at CKWRI (STN), TxDOT has been one of the leaders in addressing the shortage of native seeds. Began in 2001, STN has already released and helped commercialize the first 14 native seed sources for the South Texas region. TxDOT's leadership and support of this more regionally inclusive effort once again affirms their commitment to restoration and land stewardship in Texas.
Goal of Project
The goal of this project is commercial sources of native seeds that anyone can buy and plant for restoration. While the goal is simple, achieving it is a difficult process. First, native seed collections must be obtained from throughout the areas where seed is needed, so that resulting seed products are appropriate for use in the region they will be planted in, and perform well. Complicating this though, is the fact that not all native plant populations are created equal from the standpoint of using them for restoration. Some plant populations are genetically and environmentally adapted to produce greater amounts of seed, or seedlings that grow faster and compete better with weeds and exotic grasses. Finding these populations is critical to providing a seed source that can be successfully used. Also important is the ability of a population to grow on a number of soils; narrowly adapted populations have little chance of being useful to the public or agencies for broad restoration use, or of being grown and marketed by commercial seedsmen. To identify the best populations to use as the components of future seed sources, researchers in the program need large numbers of wild seed collections of target native species.
The goal is 30 seed collections per species of interest from each of the 3 project areas of south, central, and west Texas respectively. To achieve this, private landowner collaboration will be essential. Project personnel need landowners' help to access private lands, and collect small amounts (<0.5 lbs/species typically) of seed of selected plants for their work. All information regarding the seed collections or observations at the property are kept confidential. Once adequate numbers of seed collections are obtained, technicians plant the collections at locations throughout the state. After evaluating seed production, vegetative characteristics, and adaptability of each collection, they will select the populations best suited for restoration, and subsequently grow larger seed fields, and harvest the seed. This seed is then provided to commercial seedsmen to grow commercial quantities of seed desired by consumers. The whole process takes 3-5 years on average for each plant species. As the population grows in Texas, disturbance of native lands in Texas is expected to grow also. Texas Native Seeds is a visionary project aimed at providing a useable product for Texas agencies and landowners to use to minimize the impact of that growth on the surrounding native landscape. We think TxDOT, ranchers, and the general public can all find value in that goal. Please contact us if you'd like to be a part of this important effort!