About Us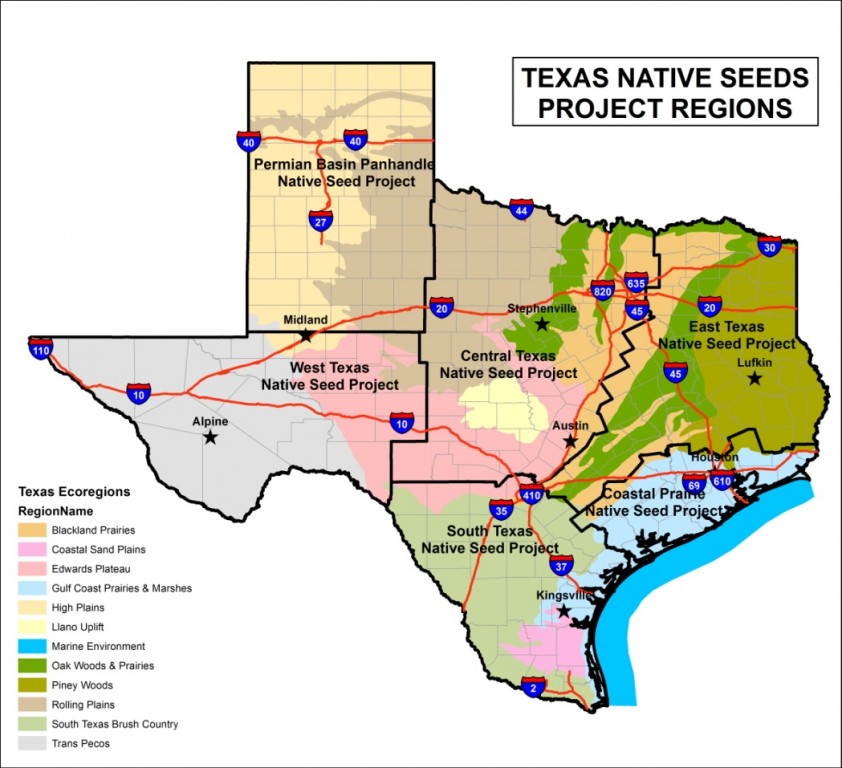 The mission of the TNS Program is to collect, evaluate, increase, release, and commercialize ecotypic native seed selections of common native plants in Texas for use in restoration and reclamation projects by the public and private sectors.  TNS operates as a network of six collaborative regional native seed development initiatives, including the South Texas Natives Project, West Texas Native Seed Project, Central Texas Native Seed Project, Permian Basin and Panhandle Native Seed Project, East Texas Natives Project, and Coastal Prairies Native Seed Project (Figure 1). Other objectives include conducting research and providing science-based guidance on native seed selection and restoration and reclamation methods to practitioners, agencies, and private landowners, and to demonstrate the successful and practical use of native plants for restoration and reclamation purposes.
In many areas of Texas, existing commercial seed supplies of native plants for use in rangeland restoration, reclamation, wildlife habitat improvement, pollinator plantings, and conservation programs is inadequate to achieve desired outcomes. This agreement will help address the growing demand for large supplies of ecologically appropriate, cost-effective, high quality, and reliably sourced native seeds for restoration and reclamation projects, as well as increase their use throughout Texas. These seed sources are desired by private landowners, agencies such as NRCS, and industries such as energy producers, pipeline and utility companies, and the transportation sector that impacts much of Texas and the adjacent private lands.  Needs for native seeds sources by region include:
South Texas-South Texas Natives Project: primary needs for native seed include for use in conservation program seedings, monarch and pollinator habitat restoration, for efforts to convert non-native grass pastures to native wildlife habitat, wildlife food plot and wildlife habitat restoration, for reclamation following pipeline installation, Eagle Ford Shale oil and gas development-related reclamation, and for rangeland restoration following brush management.  Substantial native seed commercialization already completed to date must be sustained by supply of breeder seed stock of past releases, and work to release and commercialize several additional native plant selections in cooperative with the E. "Kika" de la Garza PMC. Evaluation locations for projects in this region include the PMC, STN Farm, and Rio Farms.  Extensive restoration methodology and demonstration project efforts are also being conducted in this region in a variety of settings.
Trans Pecos-West Texas Native Seed Project: needs for native seed sources include for rangeland restoration, and energy related reclamation needs, including for pipelines, expanded oil and gas exploration, solar farms, and wind farms. Availability of native seeds for this region will be impactful to address concerns over habitat loss resulting from land fragmentation and development of energy resources, specifically to alleviate concerns over impacts to important wildlife species for private landowners, such as pronghorn antelope, desert mule deer, and quail. Native seeds that meet wildlife habitat needs are also important for use in pollinator habitat restoration projects in this region. Native plants are also a cornerstone livestock grazing resources in this region. Numerous seed source development and release projects for this region are in various stages of completion.  Evaluation for this region are being conducted at the Sierra la Rana Ranch near Alpine and the Railway Ranch near Odessa. Additional Demonstration projects utilizing new seeds sources released for West Texas are underway.
Central Texas-Central Texas Native Seed Project: extensive needs for additional native seed sources for use in Central Texas relate to land use changes, urbanization, and fragmentation.  Interest in use of native plants for watershed protection projects, monarch and pollinator habitat plantings, wildlife habitat restoration and rangeland restoration are extremely high.  As a region of intense land fragmentation, needs for restoration per area are higher here than almost any other region.  Interest in converting former cropland and bermudagrass pasture to native prairie is also a major driver for demand for additional native seed for this region.  Seed source development projects for several of the most common native grasses in this region are ongoing, as well as efforts to develop releases for wildlife and pollinator plantings. Several large-scale demonstration efforts, as well as multi-ecoregion methodology research projects are underway in Central Texas. Evaluation locations for Central Texas include the TAR-S, the Knox City PMC, and Sandbrock Ranch near Aubrey.  An additional evaluation site in the Edwards Plateau is being sought.
Permian Basin-Permian Basin and Panhandle Native Seed Project: enormous needs for reclamation using native seeds are associated with oil and gas, pipeline construction, and sand mining operations, which are dramatically increasing in this region.   Needs associated with rangeland restoration and wildlife habitat improvement by landowners and surface-owning energy companies is high.  Native seed needs for habitat restoration associated with species of concern for listing under the endangered species act are also high.  Seed collection, engagement of landowners, and cooperative work with energy companies are needed in this region. Evaluations for this region will be conducted at the Railway Ranch, Knox City PMC, and another location for the northern portion of the region focusing on areas of cropland conversion or CRP is being sought.
East Texas-East Texas Natives Project: native seed demand includes for grassland, savannah, and forest understory restoration in longleaf and shortleaf pine ecosystems, native seed sources of native plants suitable for pipeline and highway right of way revegetation are also needed.  Other needs in East Texas include ecotypic seed sources and methodology for converting bermudagrass and other non-native pastures to native prairies.  Seed collection efforts, and work to assist with commercialization of East Texas PMC and US Forest Service seed selections will be major focuses.  Evaluations will be conducted at the Nacogdoches PMC, Boggy Slough, and other locations identified in the coming year.
Coastal Prairie-Coastal Prairies Native Seed Project: native seed demand includes for native prairie restoration on former croplands, and for restoration associated with land use changes and resulting flooding impacts from hurricanes, development of new flood control infrastructure, and for pollinator and wildlife habitat restoration on private and agency lands.  Needs associated with pipelines and other energy-related impacts are also substantial in this region.  Seed collection and initial evaluation efforts are needed throughout this region. Evaluation locations will be at the WHF property near Cat Spring, and the TNC Texas City Preserve.  An additional location and associated research infrastructure development in Houston is being proposed for development.