Workshops
Workshops are open to any grade level teacher or educator interested in learning more about the bird conservation curriculum. The workshop is 2 days and involves the training on five lesson plans where participants are briefed on the purpose of the activity, the background, and procedure. Participants then perform the activity to ensure it is clear on what is expected from the students. Following each activity, the lesson is discussed and ideas/suggestions are shared within the group. The evaluation of the curriculum is strictly for 6th grade science teachers at the moment. If you are interested please contact Janel Ortiz at TAMUKBirdsGK12@gmail.com to get started! It is important that all program participants go through the training workshop to ensure they are prepared to conduct the activities in class and Janell will be there to help you along the way!
Wild Bird Conservation Curriculum Teacher Training Workshop
DATE: July 2017
LOCATION: Texas A&M University-Kingsville, Kingsville, TX
COST: FREE!
RSVP: Janel Ortiz, Program Coordinator
Get trained on original hands-on, experiential lessons that are geared towards 6th grade science TEKS and focus on wild bird identification, capture and handling techniques, diseases, habitat, and conservation. Activities include a citizen science component where the students collect, record, and analyze data from the South Texas Wintering Birds site. Work with CKWRI graduate students and faculty. Certificates will be given for 16 hours of professional development and classroom program completion. Please contact us for an itinerary and more information.
Learn how to identify birds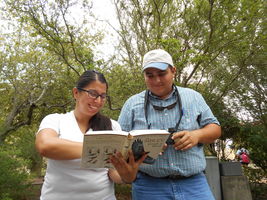 Hands-on activities