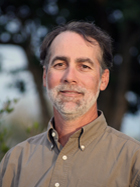 Charles Albert Williams was born in Houston, Texas.  He graduated from Southwestern University in 1984 and received his MBA from St. Mary's University in 1986. He is president of M&A Properties, Inc., Chaswil, Ltd. and the Albert and Margaret Alkek Foundation. 
Through the Alkek Foundation's work with the Institute over the past 10 years, Charlie helped establish the Ungulate Research Facility, which was completed in 2007. He is a trustee of Baylor College of Medicine and the Good Samaritan Foundation and is on the Board of Visitors of Southwestern University. 
Charlie has been running his family's Flying A Ranch in Bandera and Medina counties for the past 16 years. During that time, the Ranch has established partnerships with the Environmental Defense Fund and the Texas Brigades Leadership Camp, among others. The Ranch has also been a part of mountain lion, turkey and deer research programs with various universities. In 2007, the Ranch was awarded the Texas Conservation Award for Wildlife Conservation. Since 2001, Flying A has had an internship program with numerous state universities and colleges; over 40 undergraduate and graduate students in wildlife management have participated in the program. In conjunction with the conservation and research efforts, Charlie runs a commercial hunting, lodging and cattle business. He enjoys working closely with the managers and ranch biologists to create a destination spot for individuals and families to enjoy the great outdoors. Charlie is married to Randa and they have a wonderful son, Harrison.