Quail Associates 2.0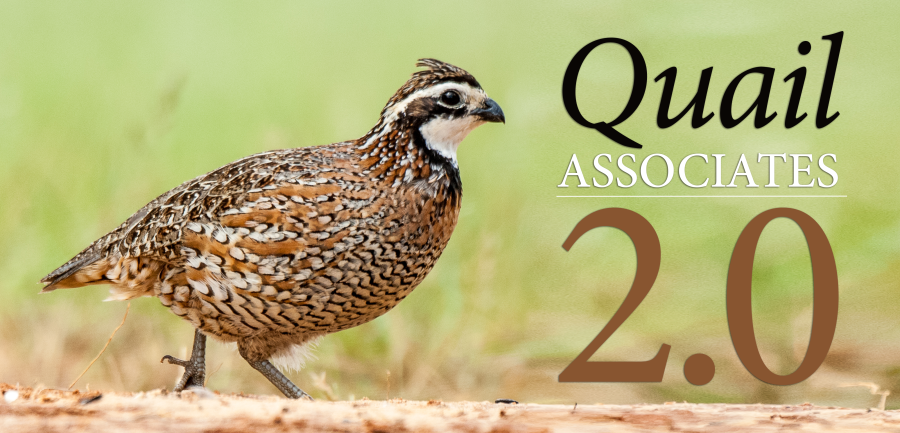 QUAIL ASSOCIATES 2.0
The original Quail Associates Program at the Richard M. Kleberg, Jr. Center for Quail Research was designed and organized by John Kelsey and Fred Bryant in 2001. It was dedicated to providing a landscape look of quail populations and their productivity over the course of ten years (2001-2011). Until this study, it was almost unheard of in the science world to have the ability to conduct such a long-range and large-scale study, and the novel findings on genetics, hunting dynamics, and productivity set CKWRI apart. The two overall goals were: (1) create a network of "citizen scientists" who contribute data from hunter-harvested bobwhites for annual landscape-scale assessments of quail productivity in South Texas and (2) raise funds to help support quail research. The Quail Associates Program succeeded at meeting both of these important goals during the study, and it is with great excitement that we are launching what we are affectionately calling Quail Associates 2.0.
Like the original Quail Associates, members of Quail Associates 2.0 will be asked to contribute data including summer roadside counts, hunting success (covey flushes/hour), and productivity (adult/juvenile harvest ratios). Not only will the members be acting as citizen scientists, but their financial support will also be providing important funding for quail research that will help predict and shape the future of quail. CKWRI's Dr. Fidel Hernandez, along with a dedicated research team, will provide participants with exclusive communications updating them on pre-season predictions, a post-season recap as well as personalized findings specific to their property. The overall findings will be shared with the membership group (with specific ranch information removed). 
---
membership
This exclusive group of dedicated quail enthusiasts will be at the forefront of Texas quail research, and membership is not limited to those who are contributing data. For those who want to participate in the next long-range quail research study by providing funding, we welcome you as a member! 
Membership benefits will provide: a hunting season forecast based on roadside counts that are submitted by participating ranches, on-the-ground data on how the hunting season progressed in the region (i.e., # of covey finds/hr.) following the end of the season, a personalized ranch report that also provides overall participant findings (you will be the only one who receives specific ranch information for your ranch, assuming you submit data), electronic notifications of new research findings in quail ecology and management, an invitation to an exclusive annual meeting (1/2 day with lunch) where members will learn of the latest research findings and management techniques, and one-time program gifts upon sign-up (two Quail Associates shell bags and hats). 
---
Want to Join Quail Associates 2.0?
Please review the Quail Associates 2.0 membership options listed below, then sign up by clicking the appropriate button. If you prefer to sign up via mail, please download our membership form and mail it along with your check to Caesar Kleberg Wildlife Research Institute, Attn: Dr. David Hewitt, 700 University Blvd., MSC 218, Kingsville, TX 78363. Please make checks payable to CKWRI Quail Associates 2.0. If you would like more information on joining Quail Associates 2.0, please contact Fidel Hernandez, Ph.D. via email or call 361-593-3926.
ANNUAL MEMBERSHIP OPTIONS
Benefits of Quail Associates 2.0 Membership are outlined above.

Includes Caesar Kleberg Partner annual donation of $5,000. Caesar Kleberg Partner benefits include invitations to VIP seminars and receptions, complimentary registration to Institute hosted events, special recognition at Institute-hosted events and in Annual Giving Report, monthly communication from Executive Director, CK Partner ranch sign, two CKWRI Partner vests, the opportunity for a personal, half-day, one-on-one visit with an Institute science team member at their ranch (in addition to Quail Associate 2.0 Membership benefits outlined above).

Current Caesar Kleberg Partners may join Quail Associates 2.0 at a discounted rate. Benefits of Quail Associates 2.0 Membership are outlined above.