Research
A wide diversity of research projects are undertaken by the Feline Research Program. Results of this research have led to discoveries providing a substantial information base for many wild cats. Some studies address the overarching research question: "What factors influence the long-term persistence of cat populations throughout their natural range?"
Several projects on the endangered ocelot have addressed different research priorities for 33 years. These studies have made significant discoveries in basic ecology, and produced a broad spectrum of practical research on (1) the effects of vehicles on ocelot mortality, (2) the best soil types for restoration of habitat, (3) population models that evaluate the effectiveness of different recovery scenarios, and (4) a variety of other subjects. Use of remote cameras in monitoring ocelot occurrence is a growing activity of the Feline Research Program.
Bobcat ecology is another important area of cat research in Texas. Research is reflective of basic problems such as the effects of drought on bobcat ecology to 
practical research about the effects of roads and traffic on this cat. Of particular interest is research that explores possible competition of bobcats with ocelots.
Other important avenues of research involve the first acquisition of basic ecological information on several cat species including ocelot, jaguarundi, clouded leopard, Asiatic golden cat and marbled cat. Ground-breaking achievements have been made with these species and will continue to expand.
Dr. Michael Tewes collaring an ocelot captured in southern Texas.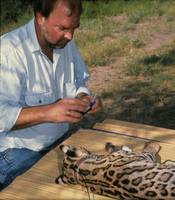 Research Associate Arturo Caso releasing an ocelot in Mexico.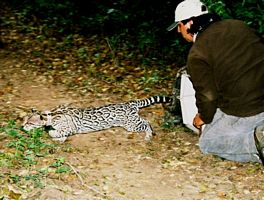 Dr. Lon Grassman holding a collared black leopard in Thailand.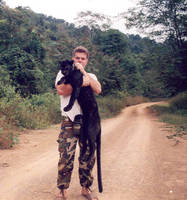 Dr. Lon Grassman collaring a leopard in Thailand.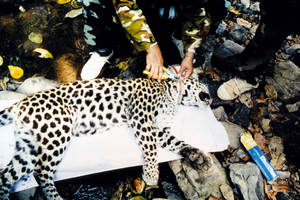 Dr. Jan Janecka is collecting hair samples from captive clouded leopard.