Caesar Kleberg Wildlife Center
While scientific research is the main focus of the Institute, public education and outreach has become a more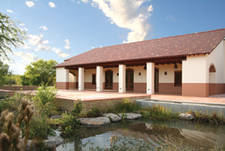 important part of the Institute's work. Located at the heart of the Wildlife Research Park, lies the Caesar Kleberg Wildlife Center, the Institute's crown jewel. This 11,220 square foot Spanish-style building has created new opportunities for outreach related activities. Completed in August 2005 with generous donations from the Caesar Kleberg Foundation for Wildlife Conservation and other supporters, the Institute now boasts a facility where wildlife research information can be disseminated through workshops, presentations, symposia, and conferences to both the general public and scientific communities.
The Center itself is comprised of the Curtis and HP Pinnell Family Memorial Auditorium, the Petra Vela Kenedy Conference Room, the Stuart W. Stedman North Room and the A. E. Leonard Family Native Plant Garden. Our garden attracts many incredible butterflies, dragonflies and birds over the course of the year.
Curtis and HP Pinnell Family Memorial Auditorium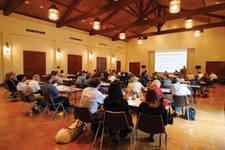 The Curtis and HP Pinnell Family Memorial Auditorium, donated by Curtis and HP Pinnell is a multi-purpose auditorium, equipped for lectures and special events, and can hold up to 250 guests. Three sets of Spanish Doors are fixed along each wall, one side leading to the portico and covered veranda area and the other North Conference Room. The doors provide the flexibility of creating an open atmosphere for special events and a closed environment for professional meetings. The ceiling is lined with wood beams accented by six glass, drop-lighting fixtures. The room is equipped with a projector, retractable screen, surround sound, dimming lights, wifi, audio and visual equipment for presentation. It has a kitchen and ice machine, located west of the auditorium which allows access for caterers during special events.
The Petra Vela Kenedy Conference Room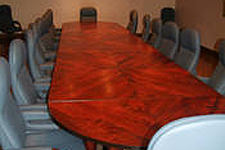 The Petra Vela Kenedy Conference Room was donated by the John G. and Marie Stella Kenedy Memorial Foundation in memory of the late Petra Vela Kenedy (1823-1885), wife of Mifflin Kenedy and co-founder of the historic Kenedy Ranch. The conference room is situated at the south wing of the Center and provides a meeting facility for the Institute Advisory Board, science team, graduate students, and other professionals. The room is equipped with a projector and drop down screen for presentations. Meeting participants gather around a beautiful twenty-three foot mesquite table donated by Frank and Mary Yturria. This one-of-a-kind five piece table was hand-crafted by Francis Goertz of Richardson, Texas, from mesquite trees hand selected off the historical Kenedy Ranch in Kenedy County. Displayed at the center of each section is the Yturria Ranch brand, an icon of a south Texas ranching heritage that is still used at the ranch today.
The A. E. Leonard Family Native Plant Garden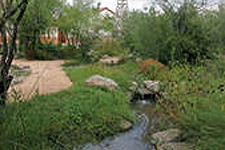 The A. E. Leonard Family Native Plant Garden is a botanical garden featuring over three hundred species of native plants from habitats of south Texas. This beautiful display of south Texas flora not only provides an aesthetic view for special events, but creates educational opportunities for various outreach activities. Created by David Mahler of Austin, one of the best native plant landscape designers in Texas, the walk-through garden features a windmill, water trough, flowing creek, hand-crafted garden bench, and seven plant display areas: riparian creek, cactus garden, rare plants, south Texas brush Community, bordas-escarpment, oak-motte, and native prairie.
For information regarding use of the Caesar Kleberg Wildlife Center at the Tio and Janell Kleberg Wildlife Research Park, please contact:
Sara Barrera at 361-593-5006 or email sara.barrera@tamuk.edu
Please click here for a map to the Wildlife Center located at 1730 West Corral Avenue in Kingsville, Texas.