Prospective Students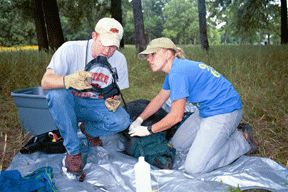 Among the top wildlife training programs in the nation, the Institute strives to provide the highest standard of education and research opportunities. Students supported through the Institute have gone on to pursue various careers including: university faculty members; game/range managers with private, state, national and international entities; zoo nutritionists; consultants with private consulting firms; biologists with state and federal agencies; veterinarians; medical doctors; and attorneys representing agricultural and natural resource interests.
Graduate students are the core of the Institute. Their dedication to completing field work, course work, theses and dissertations, public presentations, and manuscripts fuels the Institute's scientific breakthroughs. From wetland studies to desert research and from bobwhite quail to mountain lions, graduate students have been instrumental in data collection, analysis, and synthesis, providing over 35 years of research findings.
Degree Information
Students graduate from the Department of Animal and Wildlife Science within the Dick and Mary Lewis Kleberg College of Agriculture, Natural Resources and Human Sciences, while the Institute supports all of their research. Masters students receive a degree in Range and Wildlife Management while doctoral students receive a degree in Wildlife Science. Several requirements exist for students to complete a master's or doctoral degree. Under the Institute, departmental, and university guidelines, a master's degree requires a two to three year commitment to complete coursework, research requirements, field work, and to defend a thesis. A Ph.D. generally requires a four year commitment to complete doctoral course work, research requirements, field work, and to defend a dissertation.
We encourage all prospective students to browse through our website to learn more about the research programs available at our Institute.
Graduate Student Fellowships
The Institute offers mutilple graduate student fellowships. These positions are offered as they become available. To see if a fellowship is open for applications, visit our positions available page.
Stuart W. Stedman-Faith Ranch Fellowships in Deer Research (2)
Boone and Crockett Club Fellowship in Ungulate Research
Kenneth E. Leonard Fellowship for Livestock-Wildlife Research
Mike and Mary Terry Family Endowed Fellowship for Habitat Research
Elliot B. and Adelle Bottom Endowed Fellowship in Quail Research
Hixon Fellowship in Deer, Quail, Range Restoration and Wild Cat Research (4)
Jess Y. Womack, II Fellowship in Wetlands and Wetland Bird Research
Betty and George Coates Fellowship in Habitat Enhancement Research
Alice Gertrudis King Kleberg Reynolds Endowed Fellowship in Quail Research
Walter Fondren III Endowed Fellowship in Shorebirds and Wading Birds
Sam Walton Endowed Fellowship in Quail Research
More Information
For more information about Caesar Kleberg Wildlife Research Institute graduate programs or how to become one of our fine students please contact Dr. Scott Henke.
If there is a topic that interests you and you would like more information please browse our Science Team page and contact that individual directly.
SURVIVAL GUIDE
If you plan on becoming a student at the Institute, download our Survival Guide. This guide will help you make your transition as a graduate student at the Institute.
WAGSO - Wildlife And Agriculture Graduate Student Organization
We invite all graduate students to express their interests in wildlife, agriculture and related disciplines. WAGSO offers discussion groups, volunteer opportunities, and other activities where students can participate and be active in something outside of their everyday activities in the field, the lab, and the classroom.
If you have questions regarding graduate student opportunities available at the Institute or campus life, please feel free to contact us at:wagso_wildlife@yahoo.com.