Collection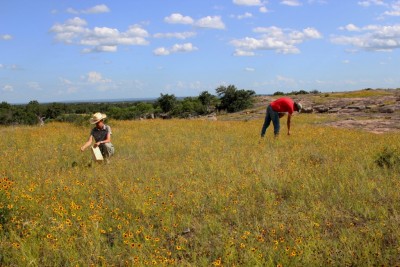 A minimum of 2 collections of each native species of interest are obtained from each county of the project regions where each species occurs. Priority species for collection are chosen by regional technical committees of natural resources experts, researchers, and seed industry professionals based on the potential demand, value to native habitats and consumers, and the species ability to be mass produced at an economical price.
Texas Native Seeds collectors target sites within their region based on rainfall analysis and historic species distribution maps. Good sites for collection include private lands accessed cooperatively by working with supportive landowners, and highway and county road rights of ways where remnant native plant populations can be found. State Parks, Wildlife Management Areas, and other government owned lands are also used extensively for collection with proper permitted access.
Regional Seed Collections List

For further information please contact our Regions Directors.
Central Texas - Colin Shackelford
Coastal Prairie -  Tony Falk
East Texas - Tony Falk
Permian Basin - Panhandle - Jameson Crumpler
South Texas - Tony Falk
West Texas - Colin Shackelford