Patton Center For Deer Research
Mission
The mission of the Deer Research Program is to develop a scientific basis for the sustainable management and harvest of free-ranging white-tailed deer throughout south Texas and elsewhere.
Our Commitment
Scientists associated with the Deer Research Program are committed to conducting research relevant to free-ranging white-tailed deer in southern Texas and northern Mexico. This research seeks to increase understanding of white-tailed deer ecology and thereby increase the effectiveness of deer management. Scientists at the Institute are committed to promoting habitat management and conservation because of its importance to deer and all other wildlife. We are committed to working with landowners and deer managers in southern Texas in meeting our goals.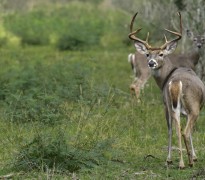 Make plans to join us on March 3, 2023 in San Antonio, Texas for the latest updates on deer research! 
Thanks to a generous gift from Bobby and Sherri Patton, the Patton Center for Deer Research (PCDR) has been established at the Caesar Kleberg Wildlife Research Institute (CKWRI). Patton, an avid outdoorsman and dedicated conservationist created the Patton Center for Deer Research that will strengthen wildlife research education at Texas A&M University-Kingsville through the Caesar Kleberg…
[more]
Please click here to view the presentations given at the 2022 Deer Research Meeting held in San Antonio on March 4th!