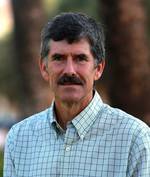 David G. Hewitt, Ph.D.
Leroy G. Denman, Jr. Endowed Director of Wildlife Research
Executive Director

David grew up in northern Colorado where he developed a love for the outdoors, including hunting, fishing, hiking, backpacking, climbing, and nature photography.  He earned degrees in wildlife biology from Colorado State University, Washington State University, and Virginia Tech. He lectured at Humboldt State University and held a post-doctoral research position at Utah State University before joining the Caesar Kleberg Wildlife Research Institute in 1996.  His primary research interests include wildlife nutrition, ecology, and management.  He was a professor and research scientist until 2006 when he became the Stuart Stedman Chair in White-tailed Deer Research.  He co-edited the book Wildlife Science: Linking Ecological Theory and Management Applications and edited the book White-tailed Deer Biology and Management.  David held the Stedman Chair until 2017 when he became the 4th Executive Director of the Caesar Kleberg Wildlife Research Institute.  He feels blessed to work with the CKWRI's incredible students, staff, scientists, advisory board, and supporters and with all the people in Texas who are passionate about wildlife. David is married to Liisa and they have 2 wonderful kids, Nicole and Matt.
Caesar Kleberg Wildlife Research Institute | Texas A&M University-Kingsville
700 University Blvd., MSC 218
Work Phone:
1 (361) 593-3963
Related Books: