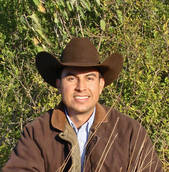 Fidel Hernandez, Ph.D.
Alfred C. Glassell, Jr., Endowed Professor for Quail Research
Research Scientist and Professor
Fidel Hernández is a Professor in the Department of Animal, Rangeland, and Wildlife Sciences and holds the Alfred C. Glassell, Jr., Endowed Professorship for Quail Research.  Fidel is a native of Brackettville, Texas.  He was raised on a cattle ranch on the western fringe of the Edwards Plateau where worked alongside his father gathering livestock, building fence, and working horses.  Fidel graduated from Angelo State University with a B.S. in Biology (1993) and a M.S. in Biology (1995) with a Chemistry Minor in both degrees.  He graduated from Texas A&M University and Texas A&M University-Kingsville with a Ph.D. in Wildlife Science (1999).  
Fidel became an Assistant Professor in the Department of Animal and Wildlife Sciences at Texas A&M University-Kingsville and a Research Scientist with the Caesar Kleberg Wildlife Research Institute in 1999.  He assumed the Glassell Professorship in 2009 was promoted to Associate Professor in 2005 and Full Professor in 2011.  His research interests involve general population ecology and have included projects on the influence of predation, habitat, weather, land-use, harvest, and range management practices-on avian populations as well as research on abundance estimation techniques. 
Fidel has authored more than 70 scientific articles or book chapters in various scientific journals.  In collaboration with colleagues at the Caesar Kleberg Wildlife Research Institute, he coauthored Texas Bobwhites: A Guide to Their Foods and Habitat Management (University of Texas Press, 2010).  He and Fred S. Guthery (Oklahoma State University) recently published the 2nd edition of the classic Beef, Brush, and Bobwhites:  Quail Management in Cattle Country (Texas A&M University Press, 2012).  Fidel serves as a Reviewer for several international journals including The Journal of Wildlife Management, American Midland Naturalist, Wilson Journal of Ornithology, Journal of Rangeland Ecology and Management, Wildlife Biology, European Journal of Wildlife Research, and Western North American Naturalist.  Fidel also has served as a Panel Review member for the National Science Foundation, US Department of Agriculture, International Aridlands Consortium, and Environmental Protection Agency.        
During 2007–2008, Fidel served as the President of the Texas Chapter of the Wildlife Society.  He also served the national society at various capacities including Chair of the Ethnic & Gender Diversity Working Group.  Fidel and coauthors received the Outstanding Book Award in 2004 and the Outstanding Scientific Publication in 2012 from the Texas Chapter of The Wildlife Society.  He received the Junior Faculty Distinguished Research Award in the College of Agriculture, Human Sciences, and Natural Resources in 2005 and the Texas A&M University System Chancellor's Teaching Excellence Award in 2010.  He and his graduate students have presented more than 150 papers at various national and international scientific conferences, with his students being winners of several awards for Best Student Research or Presentation.
Richard M. Kleberg Jr. Center for Quail Research
Research Interest
Upland Gamebirds
Rangelands Ecology
Wildlife-Habitat Relationships
Courses Taught
Principles of Wildlife Management, Texas A&M University- Kingsville, Undergraduate level
Rangeland and Wildlife Ecology, Texas A&M University- Kingsville, Undergraduate level
Rangeland Plants, Texas A&M University- Kingsville, Undergraduate level
Population Ecology,Texas A&M University- Kingsville, Graduate level
Wildlife Habitat Management, Texas A&M University- Kingsville, Graduate level
Ecology and Management of Wildlands and Animals, Texas A&M University- Kingsville, Graduate level
Caesar Kleberg Wildlife Research Institute | Texas A&M University-Kingsville
700 University Blvd., MSC 218
Work Phone:
1 (361) 593-3926
Related Books: