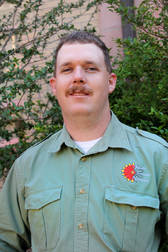 Keith Pawelek
Keith was born and raised in Jourdanton, Texas, where he grew up on his family's farm and ranch. Keith received his B.S. in Range and Wildlife Management from Texas A&M University-Kingsville in 2005. As an undergraduate, Keith was active on the Plant Identification Team, President of the Student Chapter of Ducks Unlimited, and a member of the Student Chapter of the Wildlife Society. With his diverse background in agriculture, wildlife, and habitat, Keith first joined South Texas Natives in 2003 as a student worker. After graduation, he became a permanent member of the team as a Research Associate (2005-2008), Manager of Production and Commercialization (2008-2010), and now serves as Assistant Director of South Texas Natives.
His primary duties are to assist the South Texas Natives Project Director in directing and supervising all aspects of the South Texas Natives project, and serve as principle representative of the project in the absence of or delegation of the director. He also serves as a direct liaison between the South Texas Native project and collaborators. He oversees the day to day management and operation of all the STN Facilities including the farm, seed production fields at Rio Farms, greenhouse, germination lab, and seed processing and storage facilities.
Keith and his wife, Kathy, have one daughter, Olivia. His hobbies include hunting, fishing, and spending time with his family and friends.
Research Interest
Habitat Restoration
700 University Blvd., MSC 218
Rhode Hall, 210B
Work Phone:
1 (361) 593-4896