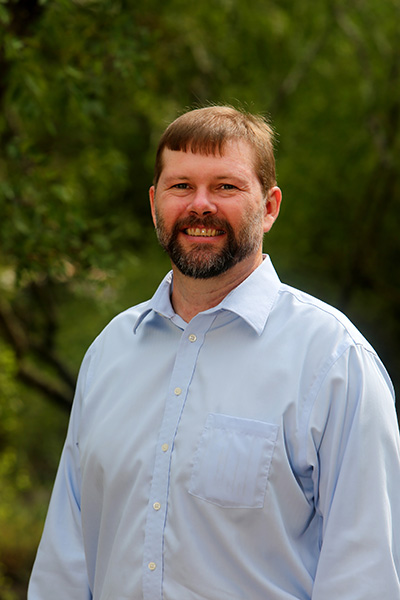 Randy W. DeYoung, Ph.D.
Research Scientist and Professor
Randy is a native South Texan who received Bachelor's (1993) and Master of Science (1997) degrees from Texas A&M University-Kingsville in range and wildlife management.  His  Master's research focused on the nutritional ecology and group dynamics of desert bighorn sheep in western Texas.  The project was interesting and he had an opportunity to hike over some tremendous vistas in the deserts of west Texas.  Looking for adventure and a new research focus, he went to Mississippi State University, where he developed an appreciation for pulled pork barbecue, blues music, and SEC football and also earned a Ph.D. in wildlife ecology in 2004.  Randy's dissertation research focused on parentage, mating behavior, and genetic structure in white-tailed deer. While at Mississippi State, he worked in collaboration with researchers from the Samuel Roberts Noble Foundation in Oklahoma and Texas A&M University.  This collaboration was a great learning opportunity and allowed Randy to gain experience in the new field of molecular ecology, the use of genetic markers to investigate aspects of wildlife ecology and behavior.  Randy decided to make a career out of molecular ecology and came back to Kingsville in February 2004 as a Research Scientist.  Although his background is in large mammal ecology, he  has broad interests and has current projects on mule and white-tailed deer, feral pigs, bobwhite quail, masked bobwhite, wading birds, gray fox and other small carnivores.
Research Interest
Molecular Genetics 
Caesar Kleberg Wildlife Research Institute | Texas A&M University-Kingsville
700 University Blvd., MSC 218
Work Phone:
1 (361) 593-5044
Related Books: