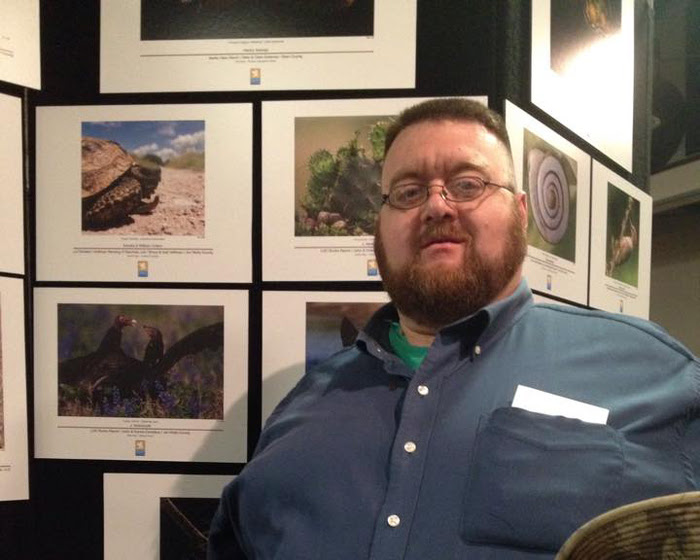 My name is William C. Colson; I am a doctoral student researching "Human Dimensions of Conservation Photography in Wildlife Management". I'm a native Texan and have been a photographer since I was about 15 years old. I took summer vacations with my family throughout the Western U.S. where I learned the basics of photography using my uncle's Minolta 35-mm film camera. Over the years, I've cultivated my desire to capture wildlife and nature through the use of photography.
I graduated from Texas A&M University-Kingsville with a B.S. in Range and Wildlife Management in 2008 followed by a Master of Science in Range and Wildlife Management in August 2012. During my Masters, I documented growth characteristics of wild white-winged dove nestlings through the use of digital photography. During the last 3 years since graduating, I have continued to take classes towards a Doctorate in Wildlife Sciences while also expanding my photography skills. During the fall of 2014, my wife and I entered Wildlife in Focus' CONTEST VIII which uses conservation photography "to preserve and protect the wild animals and habitats in South Texas". In June 2015, I asked Dr. Conkey if she would sponsor me for an unfunded Doctorate position to research the human dimensions of wildlife photographers and the landowners that use contests such as Wildlife in Focus to advance the field of conservation through photography.
Human Dimensions of Conservation Photographers in Wildlife Management
Conservation photography is a powerful tool that uses images of wildlife (often threatened or endangered) and/or critical habitat to raise conservation awareness. The purpose of these images is to capture the beauty of nature through a digital medium which few will ever physically see in the wild while also appealing to the viewer to be a participant for the cause of conservation. By using conservation photography, numerous organizations attempt to champion different environmental causes or at best educate the public about conservation issues they feel are important. 
A few of these organizations, such as Wildlife in Focus, concentrate on regional locations and offer monetary prizes to photographers of all skill sets with the purpose of drawing attention to conservation issues. These contests are conducted generally on an annual or semi-annual basis and attempt to unite photographers with landowners. Photographers may range in skill from novice to professional while landowners may include small ranches/farms, larger ranches, and conservation areas. 
This project will gather information from both photographers and landowners to gain an understanding of why they participate in these contests and more importantly what inspires them to photograph nature. By using either a mail-in or online survey, we will analyze the different socio-economic factors of conservation photographers as well as the landowners who offer the use of their property. Furthermore, we hope to discover if photographers and landowners participate in other conservation causes besides conservation photography such as hunting/fishing or conservation/restoration events.