All News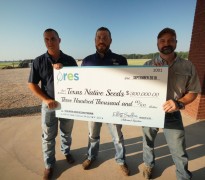 AUSTIN, Texas & RIVERBY, Texas--(BUSINESS WIRE)--The Texas Native Seeds Program is filling a crucial gap in its statewide coverage by adding the Bois d'Arc Lake Mitigation Area in Fannin County as a research site for comparative testing of native grass varieties. The three-year study will identify the best locally-adapted grasses and forbs to use for native plant restoration projects in the area, and will immediately benefit the mitigation site itself.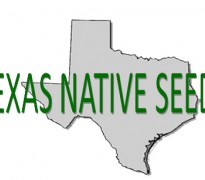 Sept. 3, 2019 (Kingsville, TX) - The Caesar Kleberg Wildlife Research Institute (CKWRI) at Texas A&M University-Kingsville announced today, a landmark $2 million gift in support of its Texas Native Seeds Program (TNS).  The anonymous gift will create an endowment to support operations of TNS across Texas to develop locally adapted native seed supplies for commercial production and to conduct applied habitat restoration research.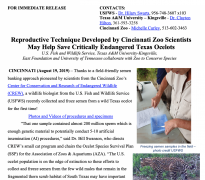 CINCINNATI (August 19, 2019) – Thanks to a field-friendly semen banking approach pioneered by scientists from the Cincinnati Zoo's Center for Conservation and Research of Endangered Wildlife (CREW), a wildlife biologist from the U.S. Fish and Wildlife Service (USFWS) recently collected and froze semen from a wild Texas ocelot for the first time!
Pages