2020 Deer Research Meeting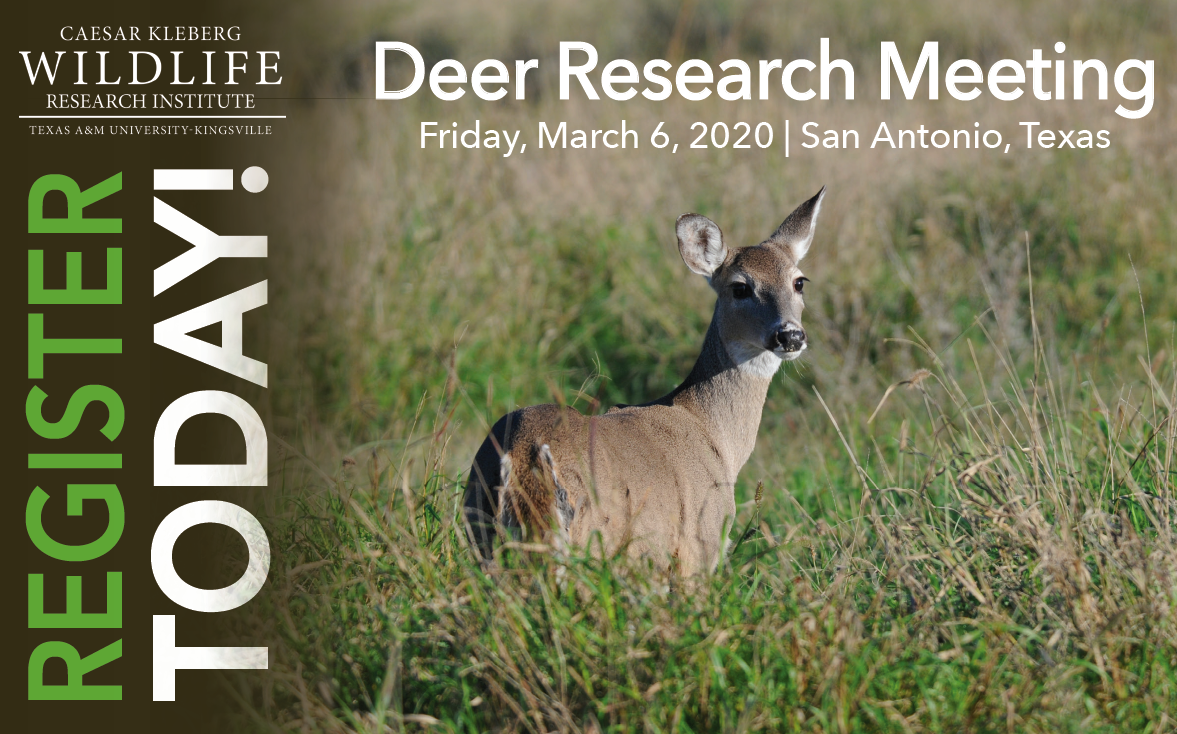 Friday, March 6, 2020 | 10:00 A.M. - 2:00 P.M. (lunch included)
Sunset Station, Depot 1, 1174 E Commerce St, San Antonio, Texas 78205
Registration Cost: $125 per person
Late Registration: $150 after February 28, 2020

NOTE: If you are a CK Partner or State Employee, please contact Gina Cavazos at gina.cavazos@tamuk.edu or 361-593-4311 to register.

LOCATION UPDATE
Please note that this year's meeting will still be located at Sunset Station, but will be in a different building than previous year's. View a map of Sunset Station: Depot 1 here.

AGENDA

Disentangling Drivers of Deer Population Performance
Mike Cherry, CKWRI

Whole Cottonseed as a Feed for Deer: the Pros and Cons
Clay Hilton, CKWRI

Weathering the Storm:  Deer Movement and Survival During Hurricane Irma
Heather Abernathy, Virginia Tech

How Deer Stay Cool in the Summer: Implications for Managing Livestock and Brush
Jacob Dykes, CKWRI

Buck Culling from a Manager's Perspective
Donnie Draeger, Comanche Ranch

Efforts to Eradicate Cattle Fever Ticks from Nilgai and White-tailed Deer
and Movements and Home Range Sizes of Nilgai in South Texas
Jeremy Baumgardt & Kathryn Sliwa, CKWRI

Chronic Wasting Disease: What Do You Know, What Do We Know?
Randy DeYoung, CKWRI

TO REGISTER and pay with a credit card, click the Register Here link below. To register and pay with a check, email or mail in the downloadable Registration Form. 
Friday, March 6, 2020 -

10:00am

to

2:00pm