CKWRI's Fred Bryant Recently Recognized as 2021 Texas Tech Alumni Distinguished Alumni Recipient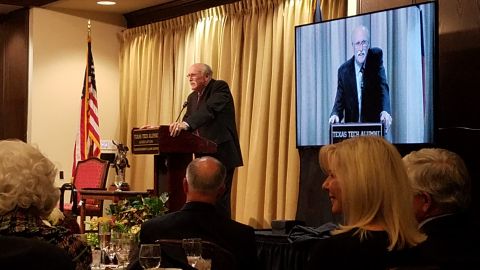 The distinguished alumni awards are presented each year to the most prestigious graduates of Texas Tech for their professional achievements, contributions to society and support of the university. Nominations are submitted by members and friends of the association, as well as Texas Tech faculty and staff, while a committee comprised of alumni and university officials reviews the nomination materials and makes the final selections.
Bryant, who served as a member of the Tech's College of Agricultural Sciences and Natural Resources faculty from 1977 to 1996, received his bachelor's degree in wildlife management from Texas Tech (1970), master's degree in wildlife biology from Utah State University (1974) and his doctorate in in range science from Texas A&M University (1977). 
He then served as the Leroy G. Denman, Jr. Endowed Director of the Caesar Kleberg Wildlife Research Institute at Texas A&M University-Kingsville for two decades. In 2016, Bryant moved into a half-time position as the organization's director of development.   
Bryant's international experiences include research activities in Mexico, Peru, Bolivia and Morocco.  He has co-authored five books and numerous journal articles, bulletins and symposia reports, popular articles and abstracts. He was named a CASNR Distinguished Alumnus (2002), and as received Utah State University's College of Natural Resources Professional Achievement Award (1996). 
He is a founding board member of The Texas Agricultural Land Trust, Texan by Nature, and served on the East Foundation's Professional Advisors Group. In the past he has served as president of both the Society for Range Management and The Wildlife Society, and, was the president of the International Society for Range Management. In 2005, Bryant was the recipient of the Sam Beasom Conservation Leader Award from the Texas Wildlife Association.
The Texas Wildlife Association selected Bryant as the Texas Outdoorsman of the Year (2016) and he was inducted into the Texas Conservation Hall of Fame with Tio Kleberg, sponsored by the Texas Parks and Wildlife Foundation (2017). Kleberg serves on the King Ranch Board of Directors, and is past president of the American Quarter Horse Association.
https://www.depts.ttu.edu/agriculturalsciences/news/posts/2021/11/nrm-b…