Monarch Butterfly and Native Plant Habitat Restoration Project receives $100,000 grant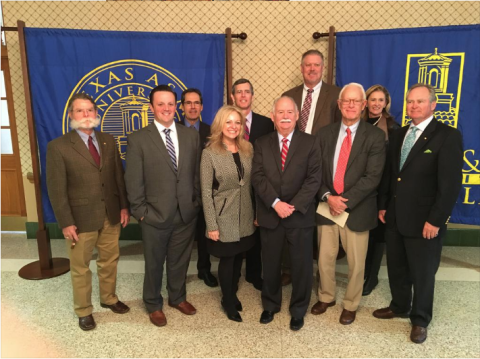 courtesy of Julie Navajar and Texas A&M University-Kingsville
Valley Crossing Pipeline, LLC, a wholly owned subsidiary of Enbridge Inc. (NYSE:ENB), and King Ranch, Inc. announced today that they will combine their efforts to make a joint donation of $100,000 to the Caesar Kleberg Wildlife Research Institute (CKWRI). The grant will fund the ongoing development, installation and research of South Texas native seed mixes and the restoration of native monarch butterfly habitat throughout South Texas.
During the last year, Valley Crossing, King Ranch and CWKRI have been working together to identify and utilize a native seed mix throughout Valley Crossing's newly constructed right-of-way in Kenedy County, TX. The objective of this grant is to support CKWRI researchers as they study the benefits of utilizing native seed mixes to restore habitat for monarch butterflies on the Valley Crossing Pipeline right-of-way on participating private lands in Kenedy County.
"Valley Crossing is excited to work with the King Ranch and the Caesar Kleberg Wildlife Research Institute on this important project," said Bill Yardley, president of Gas Transmission and Midstream for Valley's Crossing's parent company, Enbridge. "We are impressed by the work done by the Caesar Kleberg Wildlife Research Institute to restore critical natural resources and believe this project will benefit landowners, industry, and the habitats of this region and beyond for years to come."
The Valley Crossing Pipeline right-of-way lies within a primary migratory corridor of the monarch butterfly along the Texas Gulf Coast. A significant portion of the monarch butterfly population traverses this region in both spring and autumn each year to and from wintering grounds in Mexico, and breeds on native milkweeds found there. Through the efforts of King Ranch, CKWRI and Valley Crossing, the entirety of Valley Crossing's right-of-way through Kenedy County will be transformed into 42 miles of uninterrupted corridor populated by native grasses, forbs, and legumes which are capable of providing native grassland habitat needed by the monarch butterfly population.
Robert J. Underbrink, President / CEO of King Ranch, Inc. said, "King Ranch has long been a committed steward of this critical region for native and migratory wildlife. We believe this grant, combined with the capable researchers at Caesar Kleberg Wildlife Research Institute, the dedicated landowners in Kenedy County and the forward thinking of Valley Crossing Pipeline as an industry participant, will collectively improve monarch research and habitat while also restoring native habitat for other pollinators and wildlife."
The grant will also fund CKWRI's work to lead educational outreach activities on this project with landowners and other community stakeholders as well as to collect, summarize and report results of the seeding over the next three years. Valley Crossing, King Ranch and CKWRI hope this contribution will be a catalyst to attract additional financial support for this project from landowners, foundations, and conservation organizations.
"We are so grateful for the support of this important project. We believe this has potential to serve as a model project of the collective ability of researchers, the pipeline industry, and private landowner interests to work together toward effective natural resource conservation solutions in tandem with energy development," said Forrest Smith of CKWRI. "This project represents one of the largest scale and most ecologically significant, monarch habitat restoration efforts ever attempted."
About Valley Crossing Pipeline
Valley Crossing Pipeline, LLC is a wholly owned subsidiary of Enbridge. The Valley Crossing Pipeline project is a 176-mile natural gas pipeline that begins in Agua Dulce, Texas and extends south toward Brownsville, Texas where it terminates 14 miles offshore in Texas State waters. Construction of the Valley Crossing Pipeline project is estimated to generate approximately 3,504 jobs, $183 million in property taxes over 35 years for counties along the route and a total economic impact of $294.8 million in South Texas.
About Enbridge Inc. 
Enbridge Inc. is North America's premier energy infrastructure company with strategic business platforms that include an extensive network of crude oil, liquids and natural gas pipelines, regulated natural gas distribution utilities and renewable power generation. The company safely delivers an average of 2.8 million barrels of crude oil each day through its Mainline and Express Pipeline; accounts for approximately 65% of U.S.-bound Canadian crude oil exports; and moves approximately 20% of all natural gas consumed in the U.S., serving key supply basins and demand markets. The company's regulated utilities serve approximately 3.6 million retail customers in Ontario, Quebec, New Brunswick and New York State. Enbridge also has a growing involvement in electricity infrastructure with interests in more than 2,500 MW of net renewable generating capacity in North America and Europe. The company has ranked on the Global 100 Most Sustainable Corporations index for the past eight years; its common shares trade on the Toronto and New York stock exchanges under the symbol ENB. Life takes energy and Enbridge exists to fuel people's quality of life. For more information, visit www.enbridge.com.
About King Ranch
King Ranch, Inc. owns the historic 825,000 acre King Ranch in South Texas.  Founded in 1853, the Ranch is a pioneer in ranching and wildlife management, habitat conservation and sustainability.  King Ranch contributed significantly towards the founding of the King Ranch Institute for Ranch management at Texas A&M – Kingsville and the Caesar Kleberg Wildlife Research Institute at Texas A&M – Kingsville.     
About Caesar Kleberg Wildlife Research Institute and South Texas Natives Project
The Caesar Kleberg Wildlife Research Institute at Texas A&M University-Kingsville is the leading wildlife research organization in Texas and one of the finest in the nation. Established in 1981 by a grant from the Caesar Kleberg Foundation for Wildlife Conservation, the Institute operates as a nonprofit organization and depends financially upon private contributions and faculty grantsmanship. Our mission is to provide science-based information for enhancing the conservation and management of wildlife in South Texas and related environment. The South Texas Natives Project (STN) is a research program of CKWRI. The mission of STN is to develop and promote native plants for restoration and reclamation of habitats on private and public lands, focusing on the development of locally-adapted native plant seed sources for use in restoration projects. The STN Project began in 2001 at the urging of private landowners concerned with increases in highways and pipeline construction, greater oil and gas activity, and because of enhanced awareness of the role of native plants as vital components of wildlife habitat. Founding sponsor of the program was the Robert J. Kleberg, Jr. and Helen C. Kleberg Foundation.  STN is committed to providing economically viable sources of native seeds and effective restoration methodology to both the private and public sector to enable restoration of native plant communities in South Texas.
 - # # # -
CONTACTS
Valley Crossing Pipeline 
Devin Hotzel
(888) 992-0997
King Ranch
William R. (Billy) Murphy, Jr.
(832) 681-5719
Texas A&M University – Kingsville
Cheryl Cain
(361) 593-2138