Research Partner Spotlight: East Foundation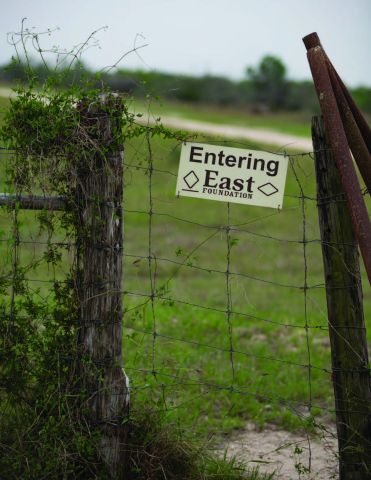 Caesar Kleberg Wildlife Research Institute (CKWRI) is honored to work alongside East Foundation on a wide variety of research projects, and we are grateful for our partnership over the last 12 years. "This partnership exemplifies the trust the Institute has among private landowners, and it's because of relationships like this, our scientists are empowered to conduct applied research that helps landowners meet their wildlife and conservation goals" said David Hewitt, Executive Director of CKWRI.
---
CKWRI Research Partner: East Foundation
East Foundation was established in 2007 by a generous gift from the East Family. The Foundation's mission is promoting the advancement of land stewardship through ranching, science, and education. East Foundation manages over 217,000 acres of native South Texas rangeland and is one of the largest ranch holdings in the state. East Foundation engages CKWRI on much of the research that is conducted on its six ranches spanning Jim Hogg, Kenedy, Starr, and Willacy counties.
The East Foundation's dedication to science provides CKWRI an amazing opportunity to learn more about South Texas rangelands and wildlife. As some of the few remaining Texas lands not intensively managed for commercial hunting, East Foundation ranches are unique living laboratories that provide a rare perspective on many aspects of wildlife and rangeland management.
Supporting Science
The East Foundation was the first organization in the United States to be officially designated as an Agricultural Research Organization (ARO), and as such, is directly and continuously engaged in conducting agricultural research. This dedication to science and a shared commitment to developing future wildlife professionals is what brought East Foundation and CKWRI together in 2010 to create a formal collaborative research agenda.
"It is really important that university graduate scientists are exposed to the realities of land management," said Neal Wilkins, Executive Director of East Foundation. "It adds practicality to their work and gives them perspective they cannot get elsewhere." 
In the wildlife biology and natural resource management professions, getting experience in the field early on is not only beneficial, but often a requirement before landing a professional job. The East Foundation's opportunities provide students with this experience to add to their resume, and the network of university research partners and interns is vast. Alumni of these programs have gone on to become research scientists, wildlife biologists, big game specialists, professors, ecologists, rangeland specialists, and more across the country.
"We work hard to help our university partners as they recruit top-quality students," said Wilkins. "We then work just as hard to make sure those students are engaged in the everyday challenges of ranching and wildlife conservation. This not only sets them up to have greater impact in their careers, but it makes their future work more relevant."
Approach to Research
All research on East Foundation ranches is conducted with the goal of understanding and improving the productivity of native rangelands for both wildlife conservation and livestock production. The outcome is generating science-based solutions to help others conserve wildlife habitat while sustaining livestock production and the important legacy of ranching in Texas.
"One of the filters we use as we're choosing and prioritizing the projects we take on, is the question: Are we uniquely positioned to tackle this?" said Landon Schofield, Range and Wildlife Biologist at East Foundation. "If no one can answer a particular management question better than us, then it's something that we'll seriously consider."
In traditional natural resource research settings, projects usually last for two to four field seasons depending on whether the investigator is working towards a master's degree or a doctorate. On East Foundation lands, projects can continue indefinitely using a series of students, evolving over time in response to answered questions that prompt new ones to explore. This ability to offer long-term research projects is a unique opportunity that exists at East Foundation.
The Research
More than 40 research projects are currently being conducted on East Foundation ranches, and over half of them are partner projects with CKWRI. Below are a few highlights:
OCELOT RECOVERY PLANNING AND FIELD RESEARCH:
hanks to land stewardship efforts begun by the East family, El Sauz is home to a population of ocelots. The science team has successfully developed techniques that allows researchers to collect and store semen from wild males that can then be used to artificially inseminate captive females and diversify the species' gene pool. The long-term goal is the reintroduction of genetically vigorous populations into suitable habitat across a larger portion of South Texas.
SUSTAINABILITY OF HARVEST ON NORTHERN BOBWHITE POPULATIONS:
There are several research projects being conducted focusing on monitoring bobwhite populations over time, exploring quail hunting practices, exploring modifications to make helicopter-based quail surveys safer, and comparing quail numbers on hunted versus non-hunted properties.
DEER RESEARCH:
Research efforts are focused on documenting the population changes and structure on one of the largest mature free-ranging native white-tailed deer herds in the state.
PRESCRIBED BURNS AND THE TEXAS TORTOISE:
The Texas tortoise is the Texas' only species of native tortoise. Research is being conducted to investigate the effects of prescribed burns on the at-risk tortoise. Researchers are capitalizing on the existing prescribed burn regime at the Foundation's El Sauz Ranch to evaluate how fires and the seasonal timing of fires impact coastal rangelands and the wildlife that lives there, including Texas tortoises.
MANAGING LIVESTOCK AND WILDLIFE INTERACTIONS:
Scientists are conducting a long-term study monitoring wildlife species' response to livestock grazing in order to develop grazing strategies for harsh South Texas environments while identifying sustainable rangeland utilization that optimizes and improves livestock production, wildlife biodiversity, and amenity value of wildlife populations. The Coloraditas Grazing Research and Demonstration Area overlaps with on-going work regarding coyotes, white-tailed deer, and rangeland monitoring. The East Foundation has developed one of the nation's largest grazing demonstration studies to test the influence of cattle stocking rates and grazing systems on rangeland, wildlife, and cattle productivity.
NILGAI AND CATTLE FEVER TICKS:
East Foundation, CKWRI, and the Texas Animal Health Commission among others, are exploring the relationship between nilgai antelope, white-tailed deer, and cattle, the three known hosts of cattle fever ticks, which carry a highly fatal disease that poses a great threat to the livestock industry.
MONITORING:
Using state-of-the-art tools, East Foundation tracks over 625 wildlife species that are found across their rangelands and monitor response to drought, grazing, and other factors that influence native rangelands. The Foundation maintains biological collections of all vertebrate species to serve as a long-term reference for scientific study. They use innovative methods to understand the competition among cattle, native wildlife, and exotic animals.
Hewitt speaks for everyone at the Institute when he says "CKWRI is proud to partner with East Foundation and grateful for the opportunity to collaborate on such meaningful research projects. The benefits to CKWRI students are immeasurable, and thanks to the support of East Foundation, the future is bright for Texas wildlife conservation, and wildlife professionals".