Scholarship Opportunities for Graduate and Undergraduate Students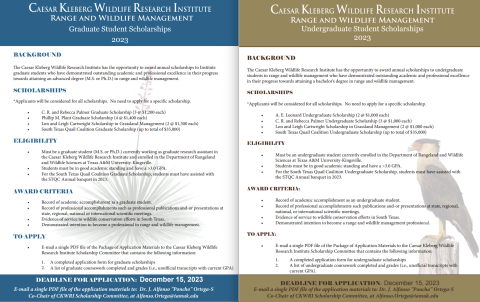 The Caesar Kleberg Wildlife Research Institute has the opportunity to award annual scholarships to Institute graduate students and Range and Wildlife Management undergraduate students who have demonstrated outstanding academic and professional excellence in their progress towards attaining either an advanced degree (M.S. or Ph.D.) in range and wildlife management or a bachelor's degree in range and wildlife management.
*Applicants will be considered for all scholarships. No need to apply for a specific scholarship.
 
 
Undergraduate Student Scholarships
Graduate Student Scholarships

SCHOLARSHIPS

A. E. Leonard Undergraduate Scholarship (2 @ $1,000)
C. R. and Rebecca Palmer Undergraduate Scholarship (3 @ $1,000 each)
Lon and Leigh Cartwright Scholarship in Grassland Management (2 @ $1,000 each)
South Texas Quail Coalition Undergraduate Scholarship (up to total of $35,000)

C. R. and Rebecca Palmer Graduate Scholarship (3 @ $1,200 each)
Phillip M. Plant Graduate Scholarship (4 @ $1,400 each)
Lon and Leigh Cartwright Scholarship in Grassland Management (2 @ $1,500 each)
South Texas Quail Coalition Graduate Scholarship (up to total of $35,000)

ELIGIBILITY

Must be an undergraduate student currently enrolled in the Department of Rangeland and Wildlife Sciences at Texas A&M University-Kingsville.
Students must be in good academic standing and have a >3.0 GPA.
For the South Texas Quail Coalition Undergraduate Scholarship, students must have assisted with the STQC Annual banquet in 2023.

Must be a graduate student (M.S. or Ph.D.) currently working as graduate research assistant in the Caesar Kleberg Wildlife Research Institute and enrolled in the Department of Rangeland and Wildlife Sciences at Texas A&M University-Kingsville.
Students must be in good academic standing and have a >3.0 GPA.
For the South Texas Quail Coalition Graduate Scholarship, students must have assisted with the STQC Annual banquet in 2023.

AWARD CRITERIA

Record of academic accomplishment as an undergraduate student.
Record of professional accomplishments such as publications and-or presentations at state, regional, national, or international scientific meetings.
Evidence of service to wildlife conservation efforts in South Texas.
Demonstrated intention to become a range and wildlife management professional.

Record of academic accomplishment as a graduate student.
Record of professional accomplishments such as professional publications and-or presentations at state, regional, national or international scientific meetings.
Evidence of service to wildlife conservation efforts in South Texas.
Demonstrated intention to become a professional in range and wildlife management.

TO APPLY

E-mail a single PDF file of the Package of Application Materials to the Caesar Kleberg Wildlife Research Institute Scholarship Committee that contains the following information:

1. A completed APPLICATION FORM for undergraduate scholarships

2. A list of undergraduate coursework completed and grades (i.e., unofficial transcripts with current GPA).

DEADLINE FOR APPLICATION:
December 15, 2023

E-mail a single PDF file of the application materials to: Dr. J. Alfonso "Poncho" Ortega-S, Co-Chair of CKWRI Scholarship Committee, at Alfonso.Ortega@tamuk.edu

E-mail a single PDF file of the Package of Application Materials to the Caesar Kleberg Wildlife Research Institute Scholarship Committee that contains the following information:

1. A completed APPLICATION FORM for graduate scholarships

2. A list of graduate coursework completed and grades (i.e., unofficial transcripts with current GPA)

DEADLINE FOR APPLICATION:
December 15, 2023

E-mail a single PDF file of the application materials to: Dr. J. Alfonso "Poncho" Ortega-S, Co-Chair of CKWRI Scholarship Committee, at Alfonso.Ortega@tamuk.edu
DOWNLOADABLE ANNOUNCEMENTS AND FORMS
Undergraduate Student Scholarships Announcement
Undergraduate Student Scholarships Application Form
Graduate Student Scholarships Announcement
Graduate Student Scholarships Application Form