Submit Your Abstract on Quail Research and Management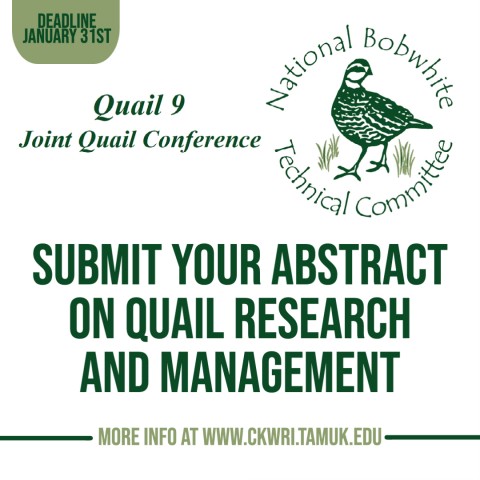 The ninth Joint Quail Conference (Quail 9) of the National Bobwhite Technical Committee and National Quail Symposium is looking to recruit abstract submissions on quail research and management going on in your organizations and state! Quail 9 is a gathering of over 200 biologists, NGO personnel, professors, students, and other researchers to discuss exciting new quail research from all over the United States and even Mexico. This will be the ninth in the series of national quail symposia dating back to 1972, and since Quail III in 1992, western quail have been included. Beginning with Quail VII, the symposia series has been led by National Bobwhite Conservation Initiative and the National Bobwhite Technical Committee. Quail 9 will be held on August 1-5, 2022 in Springfield, MO and is being hosted by the Missouri Department of Conservation and University of Missouri.

Only abstracts should be submitted at this time but those accepted will have the option of publishing manuscripts or abstracts only. You may make an oral or poster presentation at Quail 9, upon acceptance of your abstract. We also encourage submission of traditional field research studies as well as assessments of conservation actions and policy. NBCI Coordinate Implementation Program participants are strongly encouraged to submit abstracts regarding their research or progress on their respective focal areas or any other projects going on in your states.  

The deadline for abstract submission in January 31, 2021. Please see the call for papers for more information about abstract submission. General Quail 9 conference information and announcement are available on the Quail Symposium website.

For questions regarding abstract submission, please contact the editors Frank Thompson at frank.r.thompson@usda.gov or Mitch Weegman at weegmanm@missouri.edu. For technical problems with the submission site, please contact Molly Foley at mfoley10@utk.edu.