TPWD Joins With CKWRI To Study Use Of Drones For Deer Surveys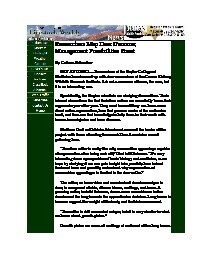 By Colleen Schreiber, Livestock Weekly
SAN ANTONIO — Drones are growing in popularity. While many use these unmanned aerial vehicles for recreation, the growth is really in commercial applications.
All sorts of entrepreneurs are finding innovative ways to use drones to improve efficiency and accuracy for everyday applications. Already, drones are being tested, and in some cases used, for package delivery, even delivery of food. The military has been using drones for many years, and the agriculture industry is making greater use of them as well, everything from use in precision ag for crops to monitoring of water supplies, fencing, and livestock.
They're also being tested as a means to gather and move livestock, more specifically serving as a spotter of sorts for those on the ground.
Now the Texas Parks and Wildlife Department is investigating the possible use of drones to conduct annual deer surveys for monitoring populations and proposing harvest recommendations. The initial research work is being done by scientists at the Caesar Kleberg Wildlife Research Institute. Some of their initial findings were presented by Dr. Randy DeYoung at the recent Deer Associates annual gathering here.
DeYoung started with a discussion on some generalities. First he outlined some reasons for investigating the use of drones for wildlife surveys, noting in particular that there are some "real serious limitations" with the current survey methodologies, be it with helicopter, fixed wing aircraft, spotlight counts, or game camera surveys.
"We're not seeing all the deer, for example," said DeYoung. "Consequently, if we survey the same pasture two or three times, we're going to get very different counts, sometimes a 50 to 100 percent difference. That's primarily because we're relying on animals to move, and at some times of the day and/or on different days, they just don't move."
He offered some plausible reasons for investigating the use of drones for wildlife aerial surveys. Perhaps at the top of that list is safety.
"Aircraft is probably one of the most significant causes of death of biologists," said DeYoung.
Another benefit of drones over current methods is that the industrial grade drones offer thermal or infrared technology, which means surveys could be done at night, when deer are typically more active.
While drone technology has come a long way in a relatively short period of time, there are still some limitations. With respect to the possibility of using them for wildlife censusing, DeYoung acknowledged that flying time, for example, could be a limitation. Some of the smaller, less-expensive drones may only allow for 10 to 20 minutes of flying, he said, though technology is improving, and flight durations are better for the more expensive types.
The Federal Aviation Administration has also implemented regulations on drones, and those regulations are likely to increase.
Weather may also be an issue for the small drones, as they can easily be blown around in windy conditions. Visibility may be an issue as well, DeYoung said.
"Can we use these in the South Texas brush? Also, we may be able to count the animals, but can we tell sex and age or can we even tell fawns from adults? Those are real important things from a management perspective," he pointed out.
The goal of this initial research, he said, was first to investigate the feasibility of drones for wildlife surveys and then, depending on that outcome, develop some protocols for surveying populations using drones. On the latter, such issues as procedures for how the drones are flown, reviewing the footage — what's a deer and what's not. In other words, the counting with drones will not be done in real time, and therefore the images may not be all that clear as to whether a "blob" seen on the infrared footage is a deer or a coyote, for example. Also, observers may see something on the tape differently each time it's viewed.
"We will need to find out if the results are repeatable," DeYoung pointed out. "Can different people look at the footage and come up with something very similar?"
Turning to the actual study, he said stage one simply focused on learning about the capabilities of the various drone technology by doing some actual test flights. Stage two focused more on actual evaluations. Researchers were able to take advantage of the long-term research ongoing on the Comanche and Faith ranches in southwest Texas. Because each of the ranches already had 200-acre enclosures with known deer densities, researchers recognized they could compare their drone surveys with a relatively known population of wild deer.
As for the types of drones tested, one was a small recreational-type drone easily purchased online. With this model they did some daytime flights where they tested different altitude capabilities and camera angles.
"At this point we really weren't trying to do counts," DeYoung commented. "We were basically just testing how far the drone could fly and what we could really see from the air."
One fact was obvious, DeYoung said. They did not see many deer unless the deer were running, and the deer only seemed to react to the drone when it got down to the 50 to 60-foot level.
"In quite a few cases, that proved to be a bit hazardous," DeYoung said. "There were some pretty tall mesquite trees that we had to dodge."
Researchers also worked with a commercial partner in this initial phase to do some test flights at night using infrared technology. First, DeYoung acknowledged that this commercial drone was considerably more expensive. The platform was not that different, but the camera and sensor, he said, are in the $20,000 to $30,000 range.
In the initial flight, the operator attempted 100 percent coverage of the 200-acre enclosure. Consequently, DeYoung estimated transacts overlapped by about 10 percent. He attributed this to the fact that their commercial applicator's primary business is mapping, where they are stitching together a bunch of views into one map.
"It was really difficult on the observer watching the footage, because sometimes it was hard to know if you'd already counted those deer that were right on the edge," he explained. "We did notice that as the drone was turning right at the boundary of the enclosures that sometimes it spooked the deer, and so those deer could have run over into the next transect."
Also, the same observer watched the taped footage several different times to see how consistent the counts were. DeYoung pointed out that all of the javelinas and pigs were removed from the enclosures, though occasionally a coyote or a bobcat comes through. The point being that even though the deer were the only large animals in the enclosures, when viewing the footage, there were instances when it could not be definitively determined that what was seen was indeed a deer.
Though there were some variations between views of the same footage, in general the drone sightings pretty well tracked the trends of relative known deer density in the enclosure.
"We learned some things with this initial valuation, DeYoung told listeners, "but it looks pretty promising."
Another set of surveys were done with a different corporate partner and a slightly different setup. This particular drone incorporated thermal technology, thus the surveys could be done during the day and at night. Researchers were also interested in doing another video camera valuation — an optical count — as well.
"This type of sensor and camera would require pretty deep pockets," DeYoung admitted.
This time, they flew multiple flights on two of the enclosures on each of the ranches.
"We wanted to see again how variable the counts were from flight to flight," DeYoung said. "We also wanted to see if reducing the overlap would help the observers in their counts."
Strip width was about 100 yards, flown at about 130 feet above the ground. With this approach, researchers estimated that they covered about 63 percent of the 20-acre enclosures.
What they found was that again, with the optical count, if the deer were not moving out in the open, it was difficult to see them.
"Our early assessment is that the smaller drone with simple video capabilities will have limited use for our purposes," DeYoung said.
The drone equipped with the thermal sensor again looked "pretty good" for both daytime and nighttime surveys.
"We still had some variation among surveys and then views, either different people or the same person viewing the same survey over and over," he said. "Again, it was the 'blob or deer' thing; sometimes it was just difficult to tell if it was a deer."
Nonetheless, in phase two with the other commercial partner, the drones again tracked relative density quite well, though there was some undercounting.
"We will have to come up with an objective protocol for when we call it a deer or not a deer or uncertain," said DeYoung.
Also, it was pretty clear that identifying age and sex would be difficult, thus making it impossible to determine a fawn crop, for example. Finally, range and duration of the drone is likely to be a limitation for large ranches.
"Maybe we can develop a protocol for larger survey areas using different percent coverage, things like that," DeYoung told listeners. "All that to say there's more work to do."
Mitch Lockwood, TPWD's big game program director, closed out the discussion with a few comments. He acknowledged that the department continues to field calls from landowners and from their own biologists about the feasibility of drones for technical guidance purposes and for use in their Managed Lands Deer program.
"Everyone recognizes the potential," Lockwood said, "but there are some obvious limitations."
He also noted that a drone is considered an aircraft, so federal law requires an air and wildlife management permit for wildlife surveys or other wildlife management uses.
"Also, there are major limitations to using drones at night. We need to look deeper into that," he concluded.