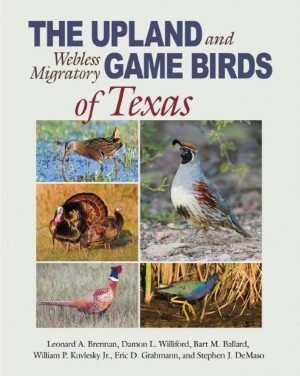 Publisher
Texas A&M Press
Authored by some of the state's top wildlife scientists, The Upland and Webless Migratory Game Birds of Texas presents the most up-to-date and comprehensive information covering twenty-one species of game birds. Ranging from the most
well-known, like the Wild Turkey and Mourning Dove, to the marsh-loving rails and other more elusive species, these birds have widespread appeal among both hunters and birders and underscore the diverse challenges facing wildlife scientists, land managers, and conservationists in Texas today. From cultural significance to taxonomy and evolutionary history, this volume provides a wealth of background information on these species. Additionally, the book offers illustrated species accounts, detailed range maps, and information about habitat and management requirements, hunting regulations, and research priorities. Readers will gain a deeper understanding of these game birds and the array of terrestrial and wetland landscapes key to their survival.
Click here for purchasing details.