Philanthropist & Conservation Minded Donors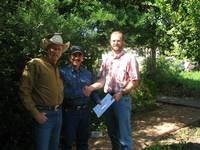 Texas Native Seeds is wholly supported by research grants and donations. We receive no legislatively appropriated funds. Administrative support and oversight is provided by the Caesar Kleberg Wildlife Research Institute, a tax exempt educational organization with a 25+ year track record in natural resources science, research, and management of public and private funds. 
Texas Native Seeds has finite goals, and finite deliverables; our work results in a product that people from all walks of life can obtain, use, and benefit from. Native seed sources are a tangible result that you can put to use on your piece of Texas.
If you would like to consider a donation or grant to Texas Native Seeds, please contact Forrest Smith at (512) 407-1132 or forrest.smith@tamuk.edu.